By Cat Mealer
Pugnacious Henry 
For a long, long part of my life, I was a very heavy sleeper. I could sleep with a train passing by when we lived less than a mile from the tracks. I could sleep with alarms going off. I could sleep with my mother banging on my bedroom door trying to wake me up, only to awaken when she breaks in after removing the doorknob. I used to sleep through anything.
I have not been a heavy sleeper since our house was broken into and the burglar made his way into my bedroom.
I was a college student when it happened and still living at home. It was the most financially responsible decision and our family never operated under the idea that you had to move away from home once you turned eighteen. You moved away when it was the smart decision, not a societal obligation. I was still in the same bedroom that I had been in since junior high. It was a second floor bedroom with a sliding door that closed but didn't lock thanks to the aforementioned story about my mother banging on my bedroom door while I was sleep. I was in high school at the time of that incident and I really didn't hear her. She said she banged and banged on my door and called my name but it wasn't until I woke up and saw her staring at me from the doorway, wide-eyed and disbelieving, a screwdriver in hand, that I was aware of anything. I also immediately went back to sleep afterward.
So my door didn't have a lock. It had this tiny little square that was always open to the world (or hallway) outside of it which was fine with me. I could change my clothes out of sight of the door, although by this time I was the only child living at home and my parents' bedroom was downstairs. What did I have to hide? The copious hours I spent online or drawing Star Trek fanart?
I did (and do!) have a pug. His name is actually King Henry V on his official papers but for brevity's sake, we call him Henry. Henry is my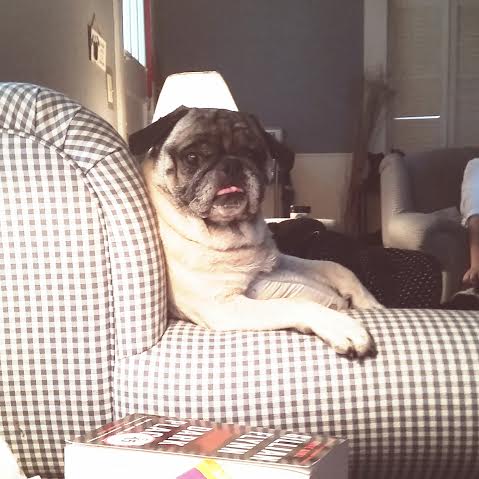 companion in all things. He is my snuggler, my garbage disposal for leftovers, my fellow-couch potato. He likes to take naps on my pillow, squarely atop my head. He likes going for walks but only short ones. If you try to make him walk too long, he gives up. He sits down and stops walking and then I'm left carrying a 26 pound pug back to the car. He's my caretaker too when I need him to be. If I've been crying, he'll paddle over to me, sit in my lap and start licking at my cheeks. If I have a band-aid anywhere, he licks that too. It's probably not the most hygienic friend to have but he's my little buddy in all things.
And of course, as any well and truly spoiled pet, he has always slept in my bed. He tucks himself under the blankets and into my arms like a child with their teddy bear.
Knowing all this, it shouldn't surprise anyone that I didn't wake up when the intruder was in my bedroom. It surprised me afterward. It terrified me that someone could be in my room, only a few feet from me and I wouldn't know it. It still terrifies me.
The intruder made it in through a window on the first floor that goes directly into our living room. Most of the window is surrounded by tall, thick bushes so someone would had to have been looking for a way into our home in order to find one that was unlocked. We had a portable air conditioner unit that requires being connected to a window. That's how they got in. I still check this window when I'm home at my parent's house and it's late in the evening. I'm sure I'll jump out of my skin if I ever move the curtain aside and actually see someone staring back at me but I have to keep checking nonetheless.
At the time, we also had a Basset Hound named Ralph. I don't know where Ralph was or what this stranger did so that our normally big, fierce, booming bark of a dog didn't chase him. Ralph normally slept in the living room on the cool hardwood floors, ears flopped over his eyes. Maybe he really didn't see him. Or hear him. Or smell him. I don't know.
I don't know what the intruder's path was in our living room. I know nothing was taken from there, not the laptops we had on the table or any of the various electronics. I don't know if he went into our kitchen or our dining room. I don't know what time he came in or how long he was wandering around our house before he went upstairs. I don't think he went into my sister's old empty bedroom. The door was still closed the next morning and the only way to turn the light on in there was through the cord on the ceiling fan, directly next to the four poster bed. It seems like too much trouble. But no one knows except, I guess, for the guy who broke in. I don't think I actually want to find out. I'm okay with not knowing.
I didn't know for sure that he was in my bedroom until after he was out of the house.
Henry, among his many other talents, could paw my sliding door open. A few well placed scratches of his paw would see the door shake just enough for him to nudge it open with his nose. And like I said, I was a heavy sleeper. I could sleep through him jumping off my bed, leaving my bedroom, and going downstairs when my dad started cooking breakfast.
My mom woke me up after it was all over. I regret now that I wasn't able to be more sympathetic to her in the moment because I'm sure she was shaken too. 'Last night, someone broke into the house. Everyone is okay. Henry woke your dad up barking at the back door. When he went to investigate it, he saw someone crouched behind the door, trying to shove things back into your purse.'
I usually left my purse downstairs in the living room. It was the easiest location for me to grab it the next morning along with my backpack and laptop before heading to class or work.
'He didn't take anything, we don't think. Seeing your dad spooked him and he dropped your purse and ran off.'
I was relieved for that. Scared but grateful that nothing had been taken. I was proud of Henry but too in shock to truly recognize how proud I was about to be.
The next few sequences are a blur. I think it was the haze of the moment. Recognizing that someone had been in our house. I think my mom guided me downstairs to look in my purse and make sure that nothing was stolen. It was all there. Cash, debit card, my one credit card I had at the time and all of my identification. All electronics were still there and everything in the house seemed fine but I was still very jittery. I talked with my mom and decided that there were two people I also needed to talk to: my then boyfriend, now fiance for comfort and my job to tell them that I might not be in that day since we still had to call the police. I went upstairs to get my cellphone which I always left charging overnight on the desk in my room. It was my morning alarm, always two feet from my head.
It wasn't there.
I searched around my desk, around my room, around my bed. I think I yelled from the top of the stairs for my mom to call my phone just in case I couldn't find it. Voicemail. No ringing, just voicemail.
The intruder had stolen my phone. From my bedroom. While I was asleep.
That was when the dam broke. I was downstairs with my mother and I remember shouting through my tears 'HE WAS IN MY ROOM!' I couldn't believe it. I was well and truly terrified. I was scared. I started thinking of all the terrible things that could have happened, how I could have been hurt. I was crying and Henry found me, forcing his way into my lap to look up at me with those big brown eyes. I remember hugging him so tight while he licked my face.
I don't actually remember the intruder being chased but that's what seems to make the most sense. The sounds my dad heard, enough to wake him up just in time to see the guy crouched at our backdoor instead of catching him while he was still in the house? It doesn't make sense if Henry didn't bark until they were both downstairs at the backdoor. The guy would have made it away before my dad could get there, even if he had dropped my purse outside our backdoor. The only thing that makes sense logistically is that somehow, Henry, my little buddy, protected me while I slept. Not even thirty pounds but fierce enough to chase a grown man out of our home and away from me.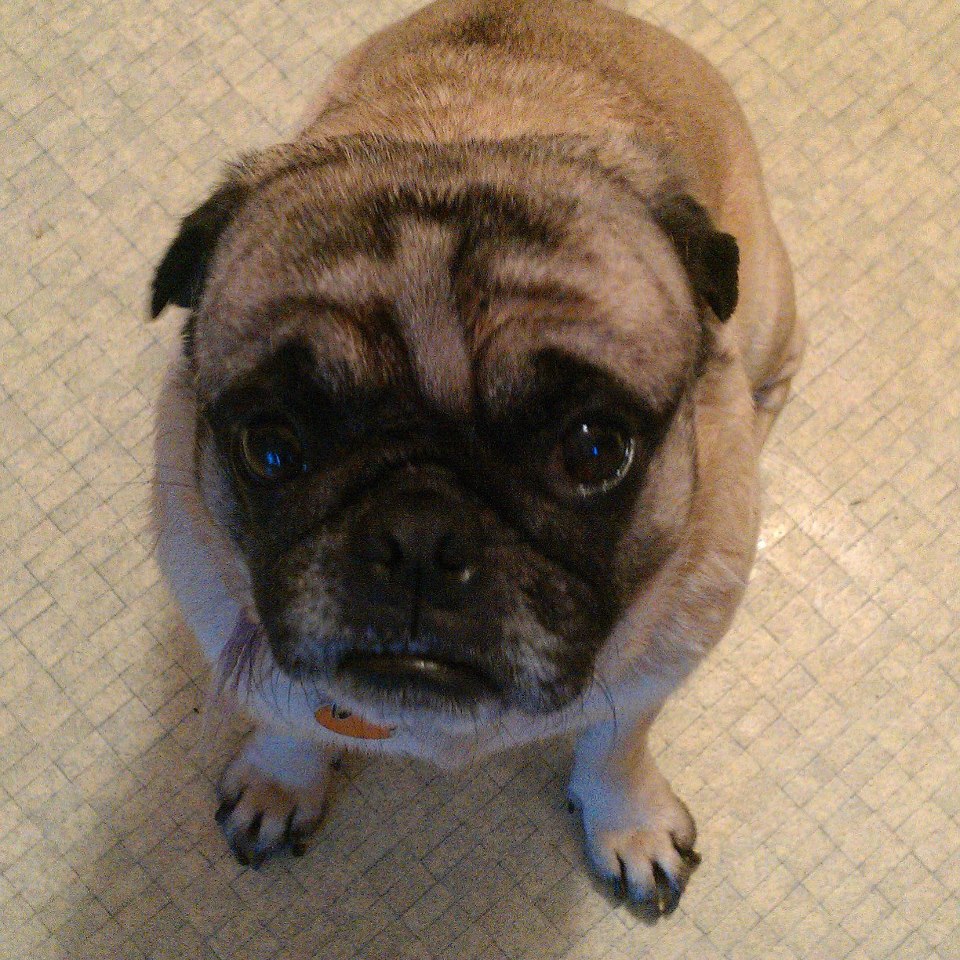 I took the above photo the same day of the intrusion. It was later that afternoon, after it all transpired, but this is Henry, all his size, all his pouty pug face. This is what he looked like when he stood up against a burglar.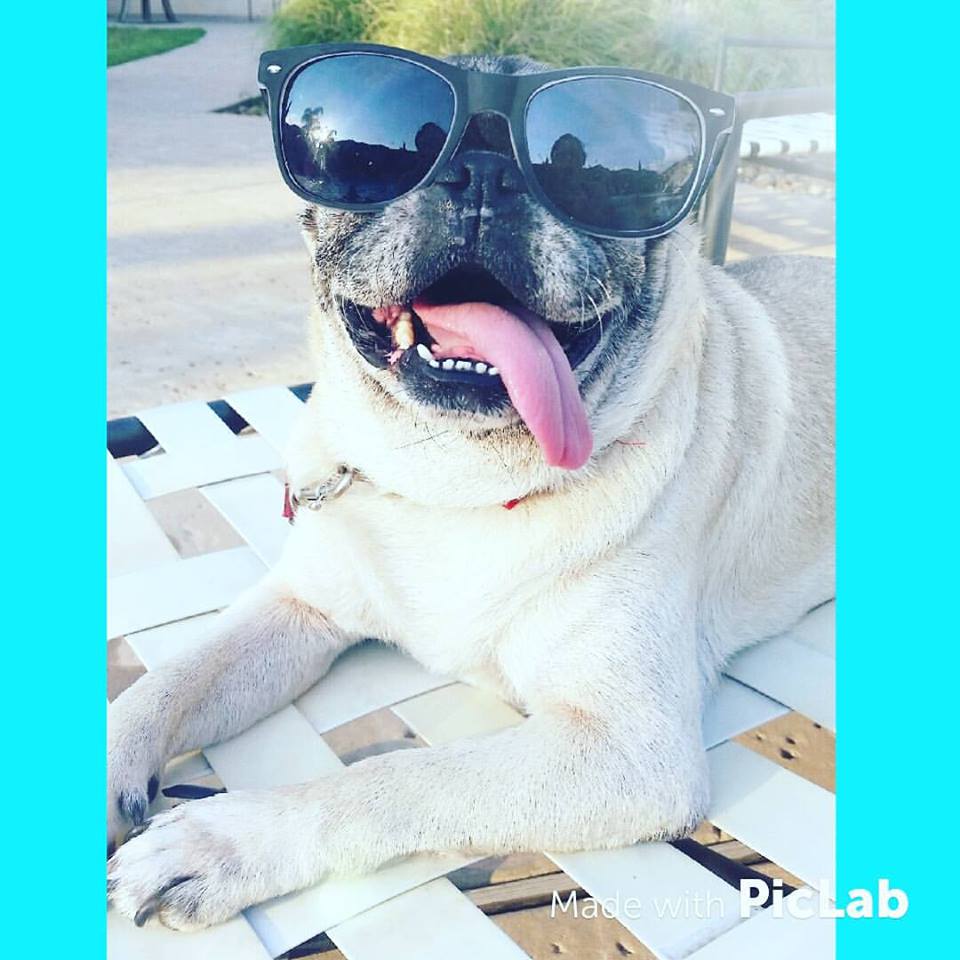 This is Henry last year, four years older, four years of more personality. The police never caught the guy who broke into our home. At least, they didn't catch him for that crime. I think that, even if it wasn't our house he was busted for, he was arrested for a different home invasion. There was a string of burglaries we heard of after our home. It frightened me for a long time, not knowing who he was that was in my room. I remember being in class or at work, shaking because I felt like it could be almost anyone. I could come face to face with the guy and not know it. I'm okay with not knowing now. I don't really want to find out who it is because I don't want them to have that power over me. I'm safe now. I was safe then, even though that burglar probably didn't think I was. They didn't know Henry.
read more