Welcome
to the Gallery
The JamBios Memory Gallery showcases user submitted memory stories from around the globe.
Each month selections are hand curated by Annie Cusick Wood and the JamBios creative team. They are chosen based on how the memory touches our heart, makes us laugh or inspires us.

To submit your memory story, start your free JamBio and invite the Memory Gallery to read one of your Chapter sections. Select Reader "Memory Gallery" at MemoryGallery@JamBios.com.

By Kristen Jaccodine
Call Sign: Fearless
It's close to 6:30 a.m. and I'm alone. It's okay though, I needed this moment to myself, before the girls joined me as we welcomed the sun to another day. As an east coaster, I'm struck by the calmer waves of the Pacific and the lack of the distinct fresh salty air that immediately fills your nose the moment you near any of the beaches, piers, and boardwalks of the Atlantic. The sand is whiter, smoother, mostly clean of rocks, shells, and sea glass. That doesn't stop my from looking though, from picking up a couple of Pacific Ocean treasures to take home. The sun is slowly rising to my left, casting a sparkling glow over the mountains, across the bluish-green sea, lighting up what was sure to be another crystal clear day. It was then that I closed my eyes and talked to mom, letting her know that I accomplished what I set out for, hoping she would be proud of me, and remembering the strength and courage I found within myself to overcome fear...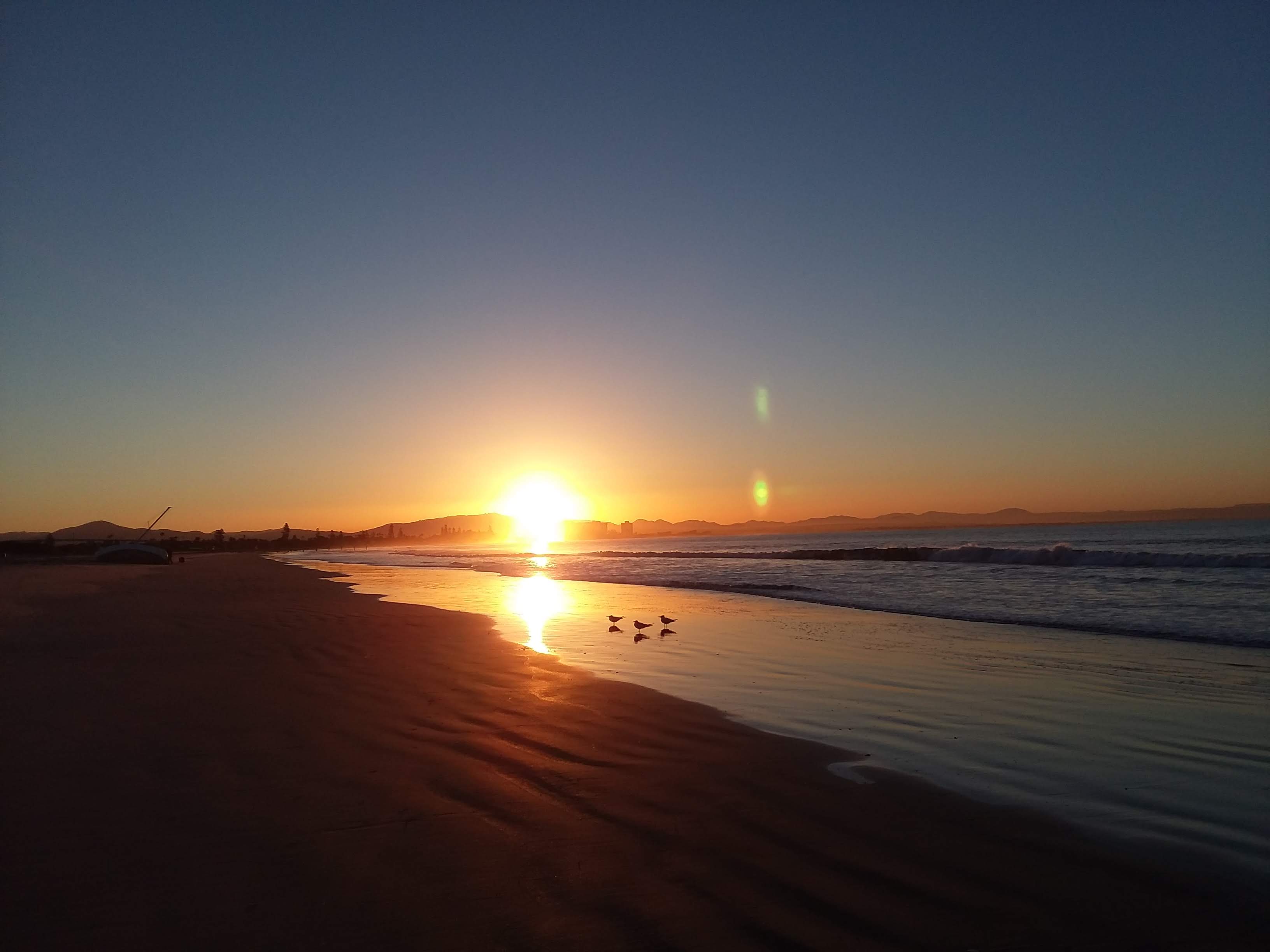 It all started with a question Monty posted on twitter about fears. At the time, I wrote about a hike I took in the back woods of Maine this past summer to an underground ice cave. My nephews and sister climbed down the ladders without issue. I was determined to try. I made it down the first ladder....the second, which would have plunged me into darkness, standing on and surrounded by ice, I could not steady myself enough to do. So, I remained on the ledge, watching them. As they explored the caves and relayed what they saw to me, I wondered if I could ever find the courage to burst past my fear and not let it stop me from experiencing and creating memories with my family and friends. I was, am, tired of that heavy feeling in my chest, of the irrational thoughts that race through my mind, depicting the stories of everything that could potentially go wrong, and all the anxiety that comes with it.
But how? How do I accomplish this personal goal of mine without my mom on my side? The one person who never judged or made fun of me, who may not have shared the same anxieties, but recognized how real they were too me. And, if given the chance, would I take it, knowing, I couldn't share the experience with her through conversations and pictures. I wouldn't be able to see the look of pride on her face when I told her that I accomplished the goals I set for myself.
Since my mom passed in October, my primary focus has been to help my dad. I promised mom I would take care of him and I have. That's not to say I'm ignoring myself, but it's a difficult slope to traverse. I found myself exhausted, both physically and emotionally. I needed to do something for me, something different, something that would take me outside of my comfort zone. I first searched for writing retreats, located one in Hawaii that seemed absolutely perfect, until I checked the dates and saw they conflicted with my end of school year responsibilities.
And then, I learned I was selected to attend the Navy Educator's Trip! I couldn't believe it! I honestly believed I had not been chosen! This trip offered me the opportunity to fly to San Diego, stay at the Navy Lodge on the base on Coronado Island, and learn about the various jobs the US Navy offers. As excited as I was about that, privately, the trip offered me so much more....it was the opportunity to leave the rather damp and depressing winter skies of NJ behind, to find some common ground with my dad who served in the Navy during the Vietnam War, and perhaps most important, to face down a few of my fears without my mom by my side. In one trip, I would face flying alone, going up and down the steep ladders on a carrier and other ships, look into the heart and soul of helicopters, and the biggest one? Climbing into the belly of a submarine.
Holy Shit. What was I thinking when I signed up for this?
But it was done. I was committed and I was not going to turn back. In the weeks leading up to my trip, I checked the weather in San Diego, I contacted Sunshine for some tips on what to pack, talked to my brother in law who travels to the area frequently, who was actually in San Diego two weeks prior, and slowly put it together. My wonderful friends and co-workers rallied behind me, encouraged me and assured me that everything would be okay. That I would have a wonderful time. It's not that I doubted them, but that ugly fear reared it's head.....the day of departure arrived.
With shaking legs and a racing pulse, I said goodbye to dad and entered the departure gates of United Airlines at Newark Airport. I saw the line at the desk, jumping right on, only to get off as I realized I skipped the part of printing off my boarding passes. Yup. I went back to the kiosk and with the assistance of a really nice United Airline employee, I was on my way. With boarding passes printed and sticker for my luggage, I moved out of the way. Another nice man helped me secure my sticker for luggage and then I was once again on line. With my bag checked, I moved along to security, regularly checking my pockets and bags to make sure I did not have any loose change lying around. And although I did my best to be polite to the security checkers, they, well, let's just say they are not always the friendliest in return.
Ignoring their impatience with the travelers that surrounded me, I followed both the written and oral instructions at security. Of course, I've been through all of this before, but never on my own. The last time I flew on my own was a time when friends or family could accompany you to the gate. Yup. I made it through security without issue and then, allowed myself to breathe.
I knew other educators would be on my flight, but given we were all from different schools, all I knew were names, not faces. I hoped I would be able to find at least one of my travel companions while we waited to board to help ease the stress that still coursed through my body. It was one thing to make it through all of that but another all together to be okay once we boarded the plane. Mom must have been smiling down on me because not only I was lucky enough to have an aisle seat (No window for me thank you very much!) As I ate breakfast and drank my chai, I checked my phone, smiling at the texts from friends, knowing I could call my brother in law if I had a question, and later, my new friend Sunshine checked in via twitter to see how I was doing.
And, as luck would have it, I did find one of my new found friends - Grace - (I happened to hear her conversation where she explained why she was at the airport), and as it would have it, she sat next to me on the plane.
Originally, I didn't plan to tell anyone my fears, but feeling comfortable with Grace from the start, I admitted that I did not like to fly. She immediately put me at ease, checked in with me throughout the flight and stuck by my side as we navigated our way through Houston. Because oh yeah, the flight was not direct. Grr.....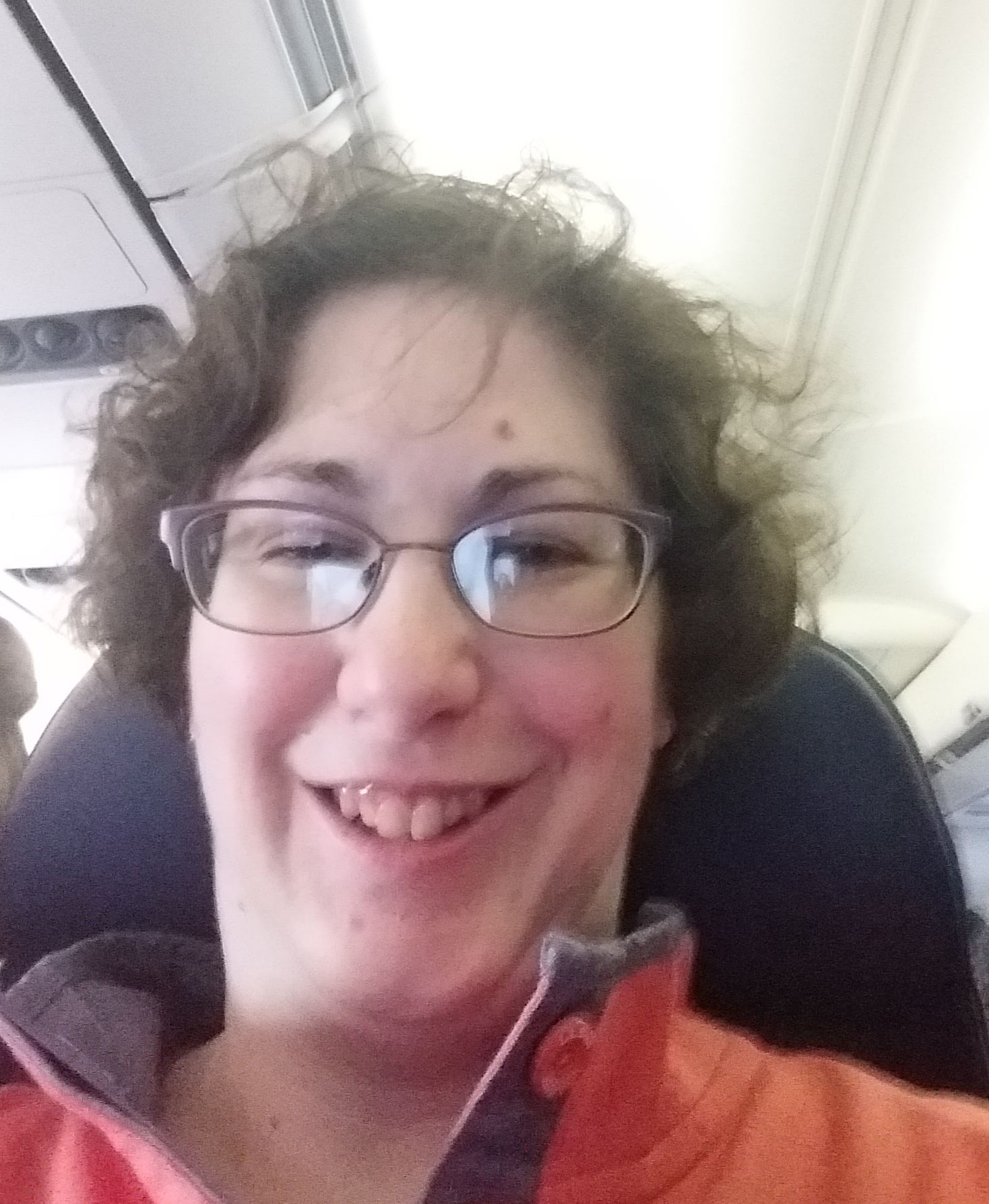 Thankfully, we left on time. I grabbed hold of the arm rests, gripping tight as we took off into the sky above and only let go of the breath I was holding when we leveled off and were at our cruising altitude. Honestly, I never pay attention to how many feet we are above the ground....I really don't want to know how much space is between the metal of the plane and the grassy plains below......
Grace fell asleep...I immediately tuned out. First up, "Can You Ever Forgive Me", followed by a US Men friendly soccer game. I learned some time ago that the best thing to keep me calm on a flight (besides not getting up to use the too small bathroom), was to listen to music, read, do anything to distract myself from where I was. So, when the turbulence hit as we closed in on Houston, I gripped my hands even tighter, focused on the game, and waited for it to end.....
We only had an hour in between flights, so, Grace and I disembarked, checked for our gate, made a stop in the ladies room, and then walked to our gate. Once there, we double checked on our flight and then headed for some liquid courage....well, for me anyway. Honestly, this is the first time ever that I had a drink before boarding a plane. But it worked, my nerves were calmed....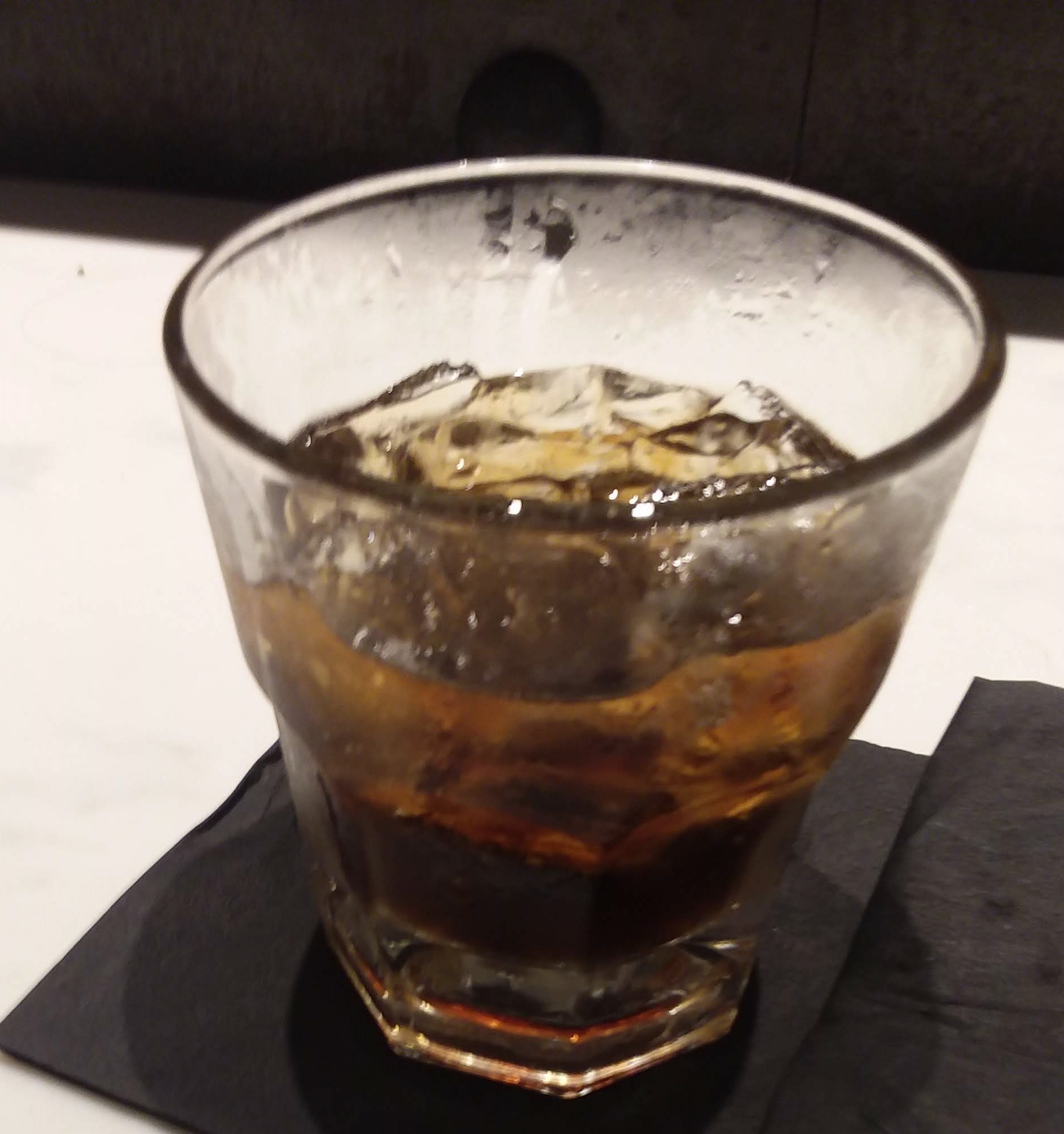 On the flight from Houston to San Diego, I was in the middle seat between two gentleman. One was a student at the University of Tennessee. I learned he is a Turf Management major at the university and was traveling to San Diego with some of his classmates and professors to attend a National Turf Conference. We chatted a bit before I picked up my book to read while he played on his phone and slept. And although the ride between the Lone Star and the Golden State was rocky, I managed to check my anxiety and not grab on to someone's arm! When we landed in San Diego, the older man next to the window pointed out the rainbow to us. We had just missed the rain but were welcomed by a beautiful sight. I opted to not try and take a picture of it, as I just wanted to look at the bright colors and let it all soak in. After all, I was safely on the ground again!
Incredibly grateful to be off the plane, Grace and I hooked up with another travel companion, Becca, who was seated next to her on the plane. As it turned out, Becca works as a guidance counselor at a school my former principal hailed from. We picked up our baggage and headed out to the green van we knew was waiting for us. That was driven by Bruce. Bruce retired from the Navy after a 30 year career with the rank of Master Chief. He currently resides in NY and helps run the educator program along with Diana, who came in on a different flight and arrived shortly after us. Once outside, we met Colleen and Christine. Later I learned that Colleen's name in high school Spanish class was Catalina, same as me and Christine knows one of my former students. Once we were all in the van, we headed out, happily chatting away. It was then that I truly knew this experience would be life changing.
After an awesome dinner at Rockin' Baja in Old Town, we headed back to the hotel. Even though it was three hours later on my body, I could not fall asleep. So, I sent off a few emails, checked into the happenings of Twitter, and eventually fell asleep. Or tried to.....there was a distinct buzzing of helicopters that awakened the evening sky with their continuous presence. And although I looked, I could not spot these watchers of the night.
Up early in the morning, I showered, changed and headed to the beach to meet up with my new friends. The sun was already up though it was a brisk 47 degrees! Really nothing to me! Colleen and I kicked off our sandals to put our feet in the water. It was not as cold as I thought it would be......that was until a stronger wave crashed against us and soaked the bottom half of my pants! After strolling along the beach we headed inside to get breakfast before departing for the day.
Our first tour was of the aircraft carrier - the Roosevelt. I've seen pictures of aircraft carriers before, heard the stories my dad told me and my sister of the time he spent on them, and I've visited the Intrepid in NYC. But this opportunity not only offered me the chance to go on board, but to learn about the various jobs that exist on these floating cities. And of course, it involved climbing up and down several steep, open backed, metal stairs. It is safe to say that my hands were a bit sore afterwards given how hard I gripped onto the railings. If you've ever been on a carrier or seen one, you'll know that the majority of the ladders are outside.....that meant going up stairs that were fairly straight up, that were open, all the while remembering to not lean your head back and to be sure to step up and over while walking through the airtight / water sealed doorways.
Can you believe that as I write this, my heart continues to pound? It's as if I'm right back there.....sun shining down yet breezy enough to wear pants and a long sleeve shirt, mindful of what I'm doing and of just how high up we climbed. All of it worth it, that is until I needed to get back down.....yup. But this experience aboard the TR felt like a warm up to what was yet to come.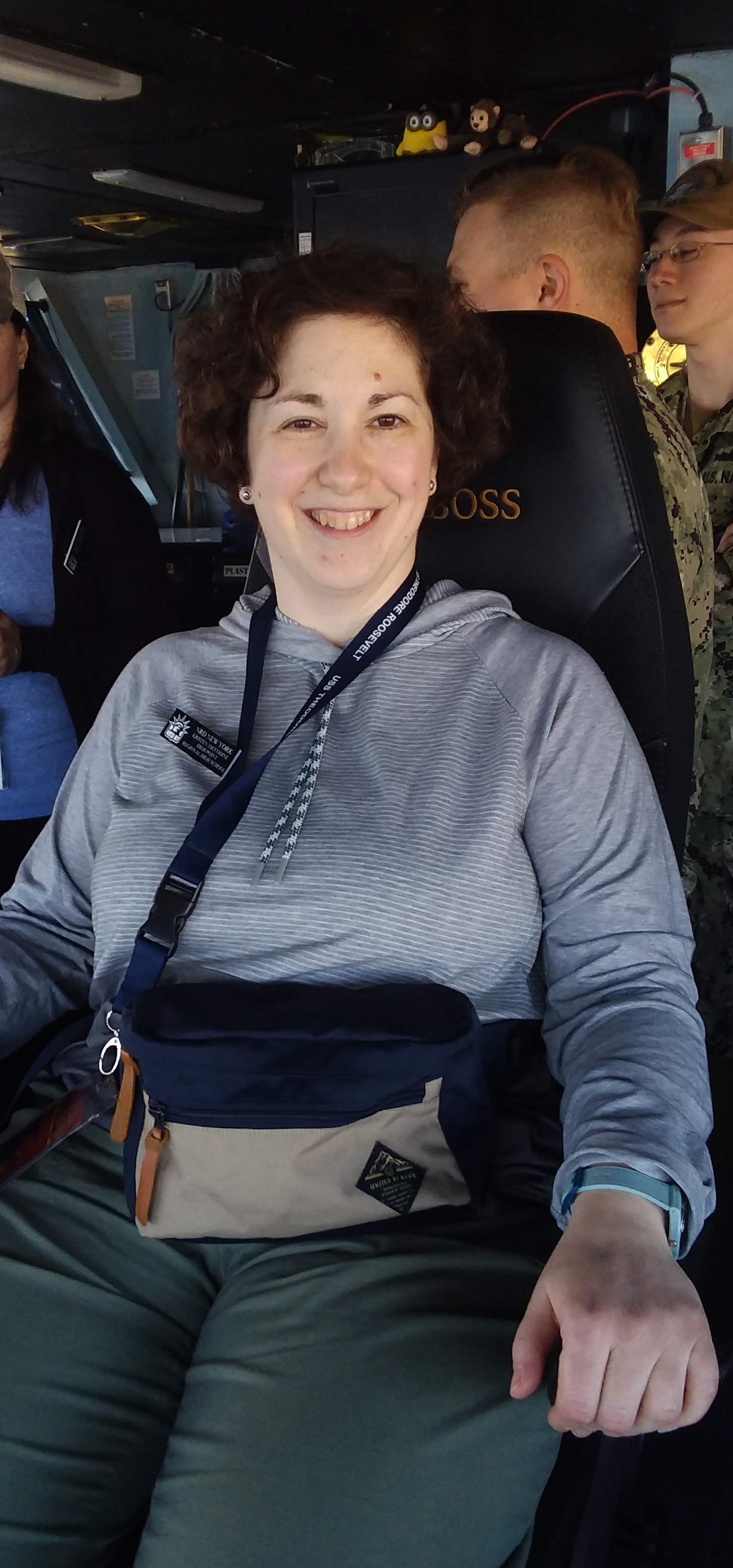 After lunch in the mess hall on base, the group opted to stop at In and Out Burger. I was in the minority in that I had not heard of this joint or of its famed burgers. While everyone ordered a burger, just because, I opted for fries and a vanilla milkshake. I only had a small salad at lunch and was worried that if I did not have something else, an empty stomach combined with my nerves could be a dangerous combination for our next stop. The fries were delicious, the milkshake, let's just say I needed a spoon!
I had only been to the San Diego area once before - that was while I was in high school. I traveled there with my family on a summer vacation. My sister and I met with our pen pals, also sisters. We spent time on the beach, went to the zoo, etc. Now, looking at the scenery as it all based by, I was struck by how beautiful the area truly is. And remembered just how perfect the climate is year round....
When we pulled into the parking lot at the Point Loma, Bruce told us we were not permitted to take pictures and to leave all bags, etc. behind. When I first learned that we would tour a submarine, to be perfectly honest, I was scared shitless. I tried to imagine other ways to climb aboard, I knew the only way in and out was through the portal located on the top of the sub. While we waited at the plank for our tour guide to join us, I tried to not look and focused on my breathing. After clearing security, we filed onto the plank, stepping onto the top of the sub one by one. When I saw the hose curled up on top, I quickly passed away the images of tripping over the object, sliding into the water along the sub walls....
I was the fourth person in line. I heard the instructions on how to climb down the ladder, but honestly, I could not see anything. Diana, my height at 5'2, was ahead of me. She took one look and turned around, stating she could not do it. In that moment I thought, well, if she doesn't go, I can stay back and keep her company.....but I didn't. I told myself to focus and to try. This is a once and a lifetime opportunity. Then, Christine was up and although taller than me, she too was scared about how to approach the decent. It was then that we were joined by a seaman on top and in the middle to help us.
After Christine was cleared, I tried to grab onto the husband as directed (a curved silver bar over the ladder), but my arms and legs were not long enough to reach. I told them, this is not going to work, I'm too short. With kindness and compassion, my friendly servicemen told me to sit on the edge, slide my feet down onto the rim and then cross over to the ladder. Shaky legs and all, I managed to do just that, climbing onto the ladder only to slowly move down one rung at a time. The grip I had on the railings on the TR was nothing compared to the white knuckles on this trip. I flashed to the ice cave, where when I climbed back up from the ledge I was on, my hands slipped and I slid down the ladder, hitting my stomach against the bars in the process. Forcing that image from my mind, I focused on the cheering of my travel mates, of the serviceman and only mildly freaked out when I was told I had one more ladder to go! Yes...there were two of these suckers, about 10 rungs each. When my foot hit the floor, I was never more grateful....that is, until I saw just how small this space is.
Once down the ladders, I steadied my breathing and sat at one of the tables to wait for the remaining members of our group. Climbing into the sub was one thing, navigating my way through it without succumbing to my fear of enclosed spaces was another. We were told that if at any time we felt claustrophobic, to let someone know and they would get us out. The panicked voice in my head silently screamed that would be me, but the rational side popped in and said, there is no way in hell you are ready to climb back up that ladder! That side won, momentarily.
There was one point in the tour where we spoke with one of the officers of the ship, and I was trapped in a corner. I was okay at first, but then I felt the tightness in my chest, the weakness in my legs, needing the wall to lean on for support. I knew we needed to move soon and thankfully, we did. I was okay until we walked through the engine room, but I made it and then steadied myself when we saw the missiles. But then, I knew once we left that space, we needed to head back to the surface.
This time, I was the second one to go. Oddly enough, I felt as though the climb up was harder physically, as I felt the strength of gravity wanting to pull me down,but, I kept going, hand over hand, one foot at a time. When I reached the top, I was again faced with the curse of being short. I was not able to step back onto the plank, instead I placed my knee on as Diana did before me and climbed out that way. Once up, I turned around to help my friend Christine, who too, was terrified of taking that last step.
I did it!!!
Over drinks and food, we shared our highs and lows of the week. When it was my turn, I began by stating I loved all of it, all that we saw, all the people we met, and all that I learned. My respect and admiration for these unsung heroes only deepened during this experience. And then, my emotions got the best of me and with tears slipping down my face, as they are now while I write this, I shared about the loss of my mom and what this trip meant to me. And that for the first time ever, I actually craved sunshine and warmth and not snow and cold!

I shared my conflicting feelings about leaving my dad alone for the first time and not having my mom to share all of this with, but that I also knew I needed to live in the moment. I needed to prove to myself that although my fear of flying may always be there, lingering in the background, I can do it on my own. I can overcome my anxieties about ladders and small, dark, cramped places, surrounded by gallons of water :), and experience a once and a lifetime event. An experience that I now share with these wonderful people. We started as strangers, but now, we are bonded through our joint experiences of sunrises, late night drinks and conversation, sights of the carrier and smells from the cruiser, marines being disciplined (an interesting story), and about Hell Week. Not only did we connect with each other, but with Bruce, who was grieving his own loss, Diana who experienced this trip for the first time with us, and with Antoine, who shared with us his journey on how he came to this place in his life.
My low was our harbor ride for a variety of reasons, and the panic I felt when I learned we had to lean over the side of the boat and climb up the ladder on the dock to get off. All I could see? Me falling into the space between the ship and the dock!
While visiting with "Little Dove", a helicopter pilot, I asked how pilots get their call signs. He shared the pilot does not select their own, but instead are given a name after doing something stupid or silly or because it is a variation of their name. While the other girls were given their call signs, it was later that evening that the girls gave me mine: Fearless.
And although I still had to steady myself for the plane ride home (which was not a stress free one by any means), it was somehow that much better because I was with girls. It was so much better that for the first time in my entire flying life, I didn't need to tune out, but instead chatted with them the whole way home.

We also celebrated with another cocktail!
Mission Accomplished.